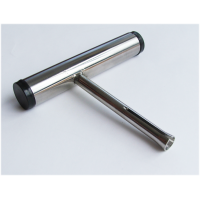 Tools
Tools for assembly spearfishing equipment.
Reference: ESC6TB
Brand: Epsealon
Epsealon T-tool for wishbone inserting.
Reference: ESC7AP5
Brand: Epsealon
15.5cm stainless steel "T" stylet. Silicone coating for a more comfortable grip. Small tool to chop fish easily. Supplied with belt holder. Available in 2 colors: Red / Black.
Reference: RARUBLAR
Brand: Rob Allen
Spearguns load assist.The metal hook, perfectly rounded guarantee full protection of the wishbone cable during loading.